"The Man, the Myth and the Madness"
By Capt. Fatty Goodlander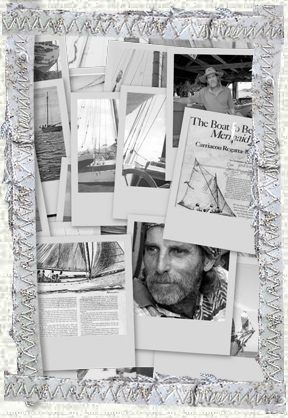 Since 1968, this has been true - and sailors through the Caribbean have sensed it. (Author's Note: True, some unfortunate people cannot feel the strong heartbeat of a good ship - nor feel the agony of her death throes upon a storm-tossed reef - but this article isn't written primarily for them. Instead it is written for... people who are willing to believe they can feel what they cannot measure. I personally am not sure there is a God in Heaven - yet I am certain the Mermaid of Carriacou has a soul. You may call me crazy; notice how unconcerned is my smile...)
Mermaid of Carriacou was designed by British marine architect Sterling Burgess and built by Zepherine MacLaren at Windward, Carriacou, for American yachtsman and adventurer J. Lynton Rigg. She is 44 feet long with 13 feet of beam, and has a moderate draft. She is somewhat slab-sided - with sharp floors, extreme dead rise, and a graceful entry. She has a long, straight run aft. The design - especially when loaded with cargo and heeled by the Trades - is a sweet one.
Rigg's idea was to build a fast "island sloop", and challenge all the local native boatbuilders to a rare race for a sizeable amount of money ($500 EC). Rigg's motivation was not to win, but to foster and rekindle the dying art of shipbuilding, which had been a flourishing business on the island until the early 1960's.
His simple yet clever plan was a success -- a huge success. He had Mermaid built, and organized the Carriacou Regatta. His vessel easily walked away with 1 st place, and all the local builders vowed: "Never again!" Numerous vessels were built to beat her -- none did for many years. (It is rumored she won eight or nine Carriacou Regattas, before she started getting beat up by "cargo" boats with 2-inch deck beams: (hers are 8" x 8"!).
Yet - in a sense - all of her varied challengers were winners. Shipbuilding on the tiny, dry unimportant island of Carriacou grew into a respected profession. Soon, Carriacou boats were sailing up and down the Lesser Antilles again, making a new name for themselves. People had work. People had pride. They used their boatbuilding skills and their knowledge of the sea to carve out a decent living on an otherwise dirt-poor rock.
An entire island got a new lease on life - and a new deserved reason for self-respect. Perhaps that's why Mermaid of Carriacou has such a benign, welcoming spirit. Perhaps she carries some of the joyful pride of the many-hued people of Carriacou locked deep within her wooden heart.
Of course, such a strange and wonderful vessel deserves an extraordinary owner/captain. Someone who is willing to devote their entire life to maintaining her rightful place in Caribbean history. Someone dumb enough to want to; smart enough to succeed. A wonderful, carefree fool of enormous proportions. Enter the notorious, the infamous, the scandalous, the improbable, the impossible, the outrageous Captain John Smith.