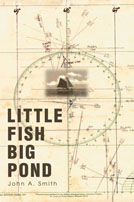 Dear Compass,
Re: Bob Berlinghof's review of my book Little Fish Big Pond in the June issue of Compass:
As Uncle Bob paraphased me, "If I catch enough fish, I need no money". What I meant was that if my vessel is ready to go to sea, if it is properly maintained, rigged and provioned for a trip of an undetermined period, and I am in good health and physically able to get underway - then, what more would I want or need? Better to invest in the "ship" before one's "offing", and if "one" is literally a singlehander, then leaving with reefed sails, as is my norm for ashore fishing, is never a bad idea.
For the shorthanded crew, getting the boat trimmed to steer, and making a big pot of tea and a loaf of fresh bread, are very often more important concerns than busting through the gates at a sprint with the spinnaker set. A well fed and well rested crew is a safe crew.
I know that there will always be some who prefer regatta starts and chasing buoys around triangular courses, but there are still a few, perhaps a precious few, for whom the outbound ship becomes a retreat does not mean to "escape" : there is no escape. To retreat is to fall back for strength, to be able to press on again, not for the destination or the goal we often hold in out mind but rather to gather strength for the next breath, the next boat length and yes, perhaps for the next fish.
Thanks for almost kind review. What the heck, About the tech shit, I have never owned a computer much less ever knew that there is a spell-check therein! All the work on this book, including editing, format, layout and final preparation was done right here in Carriacou by recently graduated students of Bishop's College. I'm actually glad to have spend my time and my small money right here, rather than to have sought perfection and perhaps an equivalent bankruptcy by doing this project"of Island".
John Smith
Mermaid of Carriacou